A Foundation For Their Future
Our Mission
The Foundation for Central Schools was established in 2004 to encourage community investment and involvement in Central Unified School District. Specifically, in the District's core pillar's: Academics,Arts, Agriculture and Athletics.
Over the last 18 years, the Foundation for Central Schools has raised nearly $1.5 million dollars. These funds have supported an array of programs, benefiting both students and teachers.
To date, The Foundation has provided $77,500 in scholarships to deserving seniors through the Janessa Ramirez Scholarship program. Provided a countless number of grants to students and teachers such as, Classroom Project Grants and Textbook Grants.
The Foundation has also supported a number of annual events including, Warm for Winter, Holiday Joy Food Drive, Summer Reading Program AG Day, Special Olympics, Young Authors' Faire, History Day and many more.
The Foundation for Central Schools will celebrate its' 20th year in 2024.
Board of Directors and Staff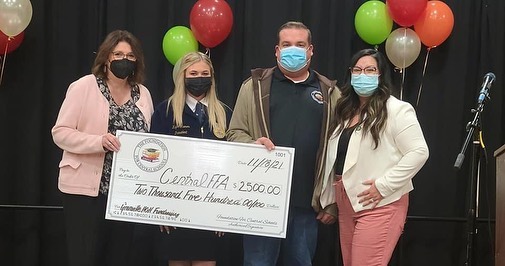 2022 Board of Directors
Corbin Gunstream, Chairman of the Board, EIP Inc.
Joe Doyland, Vice Chairman, EECU
Brett Caeton, Secretary, CRMA Inc.
Sarah Ruiz, Treasurer, Blended Families
Ketti Davis, Director, Central U.S.D Acting Superintendent
Richard A. Solis, Director, Central U.S.D Board of Trustee President
Staff
Serena G. Dohi, Executive Director, Foundation For Central Schools
Gilbert Magallon, Public Information Officer, Central U.S.D.
Olegario Tapia Solis, Clerk Central U.S.D.
Time: 11:30am
Location: Central USD District Office and via Zoom. Email sdohi@centralunified.org for link information.
Dates:
January 19, 2022
February 16, 2022
March 16, 2022
April 2022 – No Meeting
May 18, 2022
June 2022 TBA
July 2022 TBA
August 2022 TBA
September 2022 TBA
October 2022 TBA
November 2022 TBA
December 2022 TBA
2022
December
November
October
September
August
July
June
May
April
March
February
January
2021
2003
12/05/2003 – Articles of Incorporation are filed
2004
Launch Of Monthly Employee Giving
2004
Core Pillars Established: Academics, Arts, Athletics and Agriculture
2006
Launch of Central Unified Coats For Kids
2008
Wall of Fame Established at Central East High School 
2008
1st Annual Holiday Joy Food Drive
2017
1st Annual Janessa Ramirez Scholarship Awards
2020
Coats for Kids reaches the largest amount of distribution, 2100 coats
2020
Holiday Joy Food Drives distributes 2400 meals to Central Unified students & families
2021
Janessa Ramirez Community Mural created at Granville-Teague community center
2021
Launch Of Textbook Grants For Central Unified Junior and Seniors enrolled in college enrichment classes